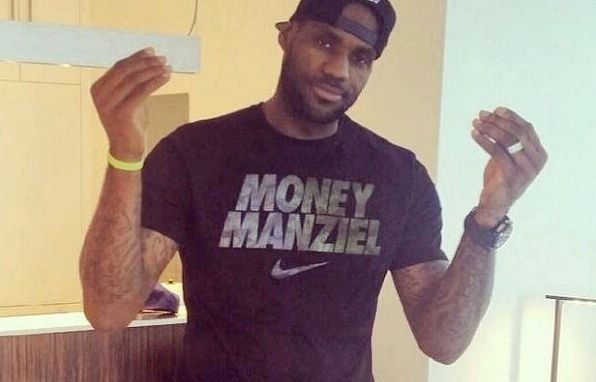 Last December, Cleveland Cavaliers' LeBron James signed a lifetime deal with Nike, the largest deal in the history of the company. Aside from continuously breaking records on the basketball court, the NBA baller has allegedly catapulted his baller status by over a billion bucks.
James' business manager Maverick Carter, who negotiated the ballerific Nike deal, recently sat down with GQ Magazine to reveal new information. Initially, Carter held his tongue, claiming he was not allowed to disclose the actual figure. However, when GQ questioned the validity of Kanye West's assumptions of a billion dollar deal in his song "Facts," Carter smiled and pointed one finger upwards, suggesting the figure is higher.
"It's a fantastic deal. Nike feels great about the deal. That's the most important thing. As great as I feel, as great as LeBron feels – Nike feels fantastic about it," he continued. "Their hope is he makes even more. And our hope is that, too, obviously."
Between James' elite basketball skills leading the Cavaliers to the Eastern Conference Finals and potentially, the NBA finals and Carter's baller negotiation abilities, it's safe to say the James family will be set for life.
Read more: http://www.balleralert.com/profiles/blogs/that-s-baller-lebron-james-nike-deal-tops-a-billion-dollars