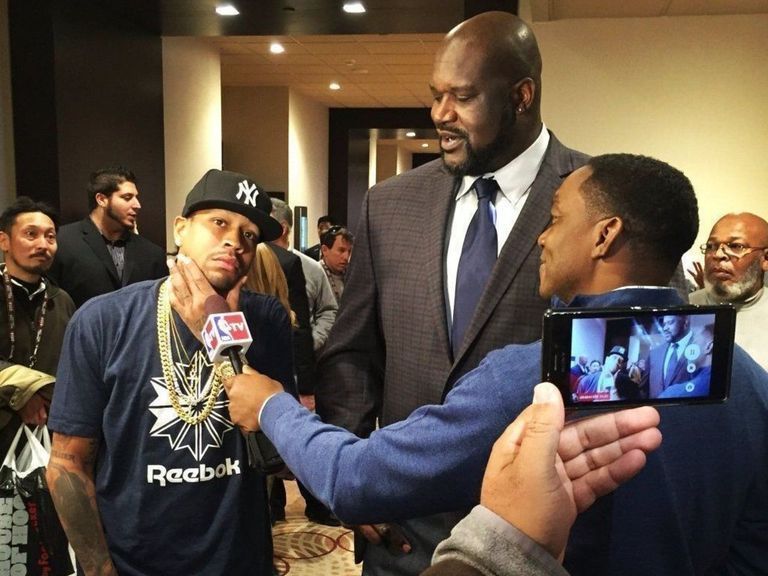 Shaquille O'Neal and Allen Iverson were among the 14 names announced as finalists for the 2016 Basketball Hall of Fame class on Friday afternoon.
The finalists for basketball's highest distinction include:
Shaquille O'Neal
Allen Iverson
Kevin Johnson
Sheryl Swoopes
Eddie Sutton (coach)
Bo Ryan (coach)
Tom Izzo (coach)
John McLendon (coach)
Muffett McGraw (coach)
Robert Hughes (coach)
Darrell Garretson (official)
Leta Andrews (coach)
Charles "Lefty" Driesell (coach)
1954-58 Wayland Baptist University
O'Neal spent 19 seasons in the league from 1992-2011, most notably with the Orlando Magic, Los Angeles Lakers, and Miami Heat. He won four NBA championships, three Finals MVPs, made 15 All-Star teams, eight All-NBA First Teams, and is a member of the NBA's 50th Anniversary team.
Iverson was selected first overall by the Philadelphia 76ers in 1996, leading the franchise to six postseason appearances and a trip to the NBA Finals in 2001. Revered as perhaps the most dominant little man in NBA history, Iverson won four scoring titles during his illustrious career, averaging 26.7 in 914 games.
"I'm a product of Michael Jordan, Isiah Thomas, Magic Johnson, Shaquille O'Neal, Charles Barkley … all the guys that paved the way for us," Iverson said at the announcement Friday in Toronto.
Notable names who weren't named finalists as players from the North American committee include Tim Hardaway, Chris Webber, and Mark Aguirre.
The final enshrinees will be announced on April 4 during the NCAA's Final Four in Houston.